Good Evening..
I am using PSP X14, running
Windows
8.1 64bit, with i7 processor. Half the plugins that worked in Vista no longer work for me. In some cases they simply crash the program. Otherwise they freeze the program with this display or some variation thereof.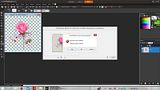 I have turned on
DEP
for all programs except PSP X4. The two dll files are installed in the SysWOW64 file.
Some of these filters are ones I use frequently, so I would dearly love to have them functioning again.
What are my options? Any help or suggestions are appreciated!
Many thanks..
Muriel!